October 06, 2023

Private Gala Dinner at an Exclusive Location

September 28, 2023

Corporate Meeting with 180 participants

June 08, 2023

Gala Dinner & Party in Rome with 400 guests.
---
Created in 1984 as a Professional Congress Organizer, Formula Congressi Promotion Incentive has developed into a complete integrated service-provider with the capacity to create, produce and interpret every type of event, with passion and professionalism.

Certified company ISO 9001:2015
---
1-2-3-4-5-6-7-8-9-10-11-12-13-14-15-16-17-18-19-20-21-22-23-24-25-26-27-28-29-30-31-32-33
---
Roma
Via Alberto Caroncini 58 – 00197
Tel: +39 06 3973 0310
formula@formulacpi.com
Events
Every single detail is important to make an event successful. Small meetings or conferences for thousands of people….whatever the nature of the event, Formula's master touch makes every participant feel a "leading player" in a special event.
Travel
From elite programmes for small selected groups to large corporate conventions Formula invents original performances, tailored to meet the client's requirements: sport, adventure, training, special evenings, teambuilding...in order to make that Incentive a unique and unrepeatable experience.
Incentives & Motivation
Formula specialises in delivering projects that engage employees, customers and partners in the pursuit of a strategic goal. Every campaign comprises all the parts of a complete history: the protagonists, the action, the suspense, the happy ending… the satisfaction at winning for some, and the encouragement to the others to learn to make the most of their own resources.
Corporate Marketing Services
When it comes to help our clients achieve a business goal, Formula designs projects, programmes and actions combining creativity, production capability, innovation and technological skills.
Communication campaigns
Customer strategy and management
Loyalty programmes
Web solutions
---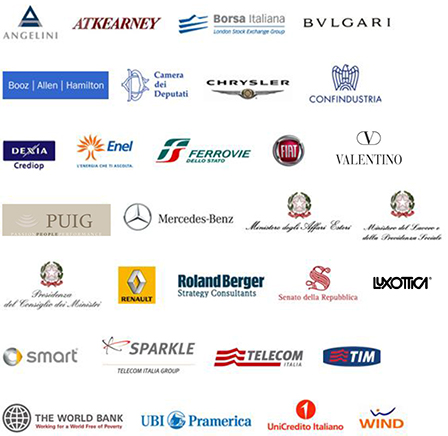 ---
To consolidate its organizational structure, Formula selects professionals with a minimum event-organization expertise of 5 years.
More >>